admin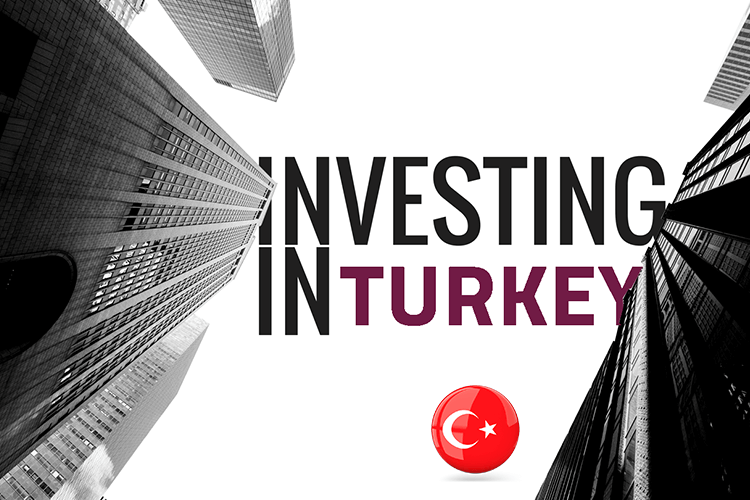 Turkey is a very dynamic, growing country and G20 group market, located at the crossroads between East and West.
At the strategic level, we have identified 5 good reasons to invest in Turkey that can be considered by foreign companies considering expanding their business in the capital investment market.
Strong growth economy
Turkey is actually one of the countries that recorded one of the highest growth rates today. It grew by an average of 5.6% in the 2010-2022 period. In the first quarter of 2022, the growth was 5%.
Expanded domestic market
Turkey has an expanding domestic market with high purchasing power for foreign investors.
Strategic location
 The most attractive reason to invest in Turkey is its strategic location. Turkey is actually located at the crossroads between Europe, Central Asia and the Middle East. It also gives you easy access to the European, Middle East, North African, Central Asian and Gulf markets. The total population of these 4 countries is 1.6 billion and their total national income reaches 28 trillion US dollars. This makes Turkey an advantageous country for real estate investment and capital investment.
Young and dynamic population
Very young men and women open to Western culture live and work in Turkey. Turkey has individuals with an average age of 30 and a high level of education. As we said, they are all people who have a command of Western culture and are highly inclined to development.
Ongoing structural reforms
In the last decade, the Turkish government has carried out numerous economic reforms, mainly to attract foreign capital. Thanks to these reforms, establishing a company in Turkey is now much easier than in the past. In fact, international investors have the same rights and are subject to the same rules as local entrepreneurs. This is demonstrated above all by the substantial and tangible increase in foreign-owned companies from 5,600 (2002) to 53,000 (2016).
Why invest in Turkey?
From 2002 to 2020, Turkey recorded an average annual growth of 5.1% and became the 11th world economy in 2020. A resilient economy that continues to grow even during the pandemic.
It should be noted that the strength of the Turkish economy can be based on several factors: for example, average inflation, which was stable at 4.5% between 2003 and 2020. Assuming that the population is growing (currently the Turkish population exceeds 83 million) and the level of urbanization (there are 24 cities with over one million inhabitants), the Turkish economy has more than tripled in the last 18 years and is expected to continue to grow.
The driving force is the vast ecosystem of very active start-ups that are among the top 20 in the world.
The growing sectors that offer the greatest investment opportunities are: automotive, machinery and equipment, aerospace, real estate.
Turkey is the 14th country in the world and the 4th in Europe with an annual average production of 1.5 million vehicles. In the infrastructure sector, between 2003 and 2020, a contract worth 156 billion dollars was signed from the public-private partnership.
The great attractiveness of international capital is evidenced by the growth in foreign capital inflows of 225 billion in the 2003-2020 period. The number of foreign companies in Turkey increased exponentially from 2002 to 2020.
Foreign companies are looking for ways to redefine their production and supplier bases. Thanks to its production capabilities, flexible, competitive and qualified labor market, central location and network of free agreements, Turkey offers an excellent opportunity for foreign companies looking to reorient and diversify their supply networks.
4.6 billion foreign investments in Turkey in 2020
In the January-November 2020 period, an investment of 4.6 billion dollars was made in Turkey from abroad. These data are from the Ministry of Commerce and the country's central bank.
Europe ranked first with approximately $3.3 billion of foreign direct investment in Turkey: this share represented 70.8% of the total.
According to the data compiled by Anadolu Agency, Italy is the first investor with 970 million dollars, followed by the USA with 769 million dollars.
Netherlands 491 million, England 439 million, Luxembourg 428 million, Germany 264 million, Ireland 167 million, Hong Kong 157 million, France 144 million and Japan 113 million.
There are many sectors in which investors intervene by communicating information from the automotive and transportation sector, which is one of the main assets of the country.
Foreign investors prefer Turkey
In the last few years, the globalization process has caused us to move away more and more from our production sites and our main markets as a cost issue. The pandemic has shown us how important it is to have balanced supply chains that allow quick communication with nearby suppliers, thereby reducing the risk of production interruptions and not being able to deliver our products to the market. Evaluating all these, foreign investment experts state that investing their capital in Turkey is the most advantageous option.
Turkey affordable
The depreciation of the Turkish lira makes the country extremely affordable both for purchasing products and for long-term investments. If you are looking for an alternative to a workforce equivalent to high European standards, Turkey is an indispensable choice.
Turkish government wants to encourage foreign investment
The Turkish government has launched a large-scale promotion and reform campaign with the goal of becoming one of the main regional centers and attractions for foreign investment.
If we add to this, the possible effect of the strengthening of the TL against the Euro and the Dollar and the intention to find a more effective monetary policy, we see that the right moment has come to invest in Turkey in 2022, apart from the unforeseen turmoil.
Which sectors are worth investing in in Turkey?
In order to answer this question, we need to clarify what the real purpose will be. What do you want to do? Are you going to sell in the domestic market, do you export, or do you want to buy products?
If you want to sell in the domestic market, it is important to analyze which products are imported to Turkey.
In 2019, Turkey imported goods worth 200 billion Euros, 50% of which was from Europe.
Apart from mineral oils, precious stones and precious metals, the most imported products were machinery (computers and engines).
The second most imported category is electrical equipment.
Pharmaceutical products, on the other hand, are the products with the highest increase in value, but it is a complex market as sales prices are regulated by the Turkish government.
If you are interested in exporting from Turkey or even purchasing products from Turkey, the leading sector is the automotive sector, followed by computers, electrical machinery, iron and steel goods, textiles and plastic products.